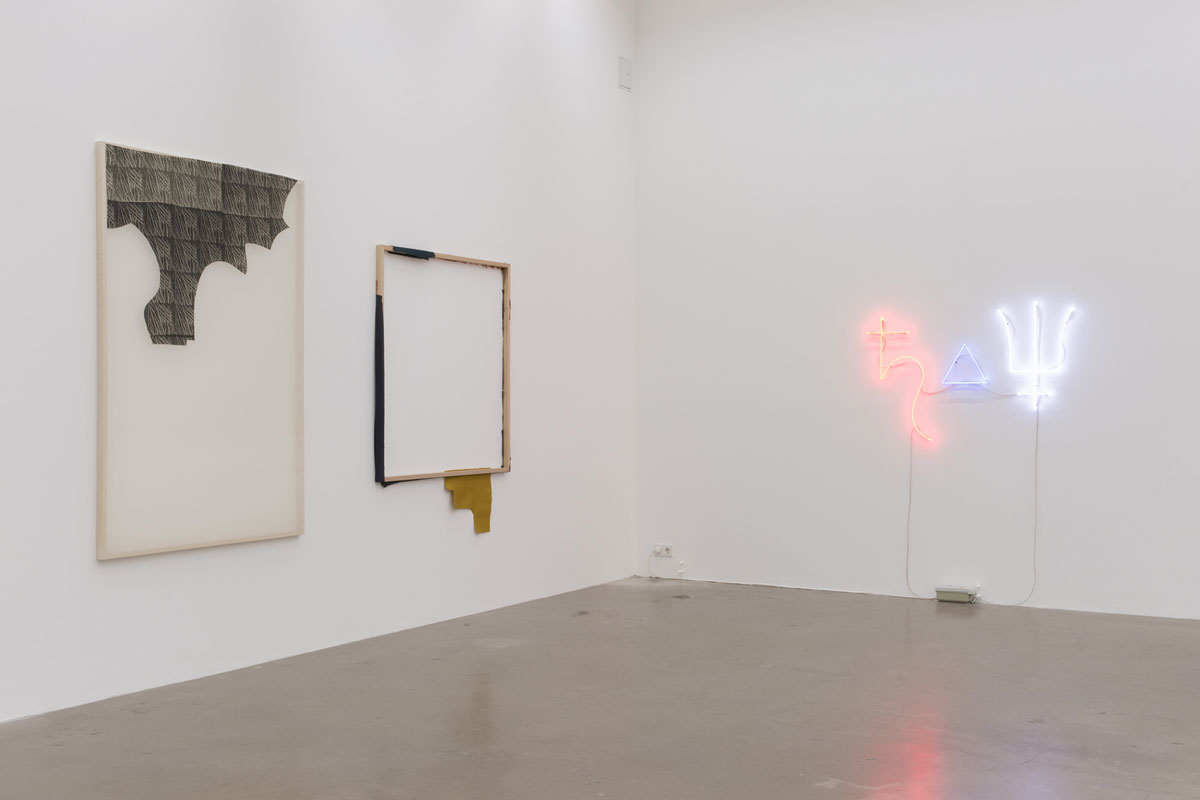 Artists:
Dirk Bell, Slater Bradley, Harry Burden, Adrian Buschmann, Inge Dick, Rolf-Gunter Dienst, Janine Eggert & Philipp Ricklefs, Amira Fritz, Amélie Grözinger, Flaka Haliti, Jay Hines & Daniel Newman, Erik Schmidt, Kate Terry, Iris Touliatou, Anna Virnich and Ettore Sottsass
Kuratiert von / Curated by Juliet Kothe & Amélie Grözinger
Please scroll down for English version.
Zeitgenössische Kunst und heutiges Design beschäftigen sich mit ikonischen Elementen der Vergangenheit. Die ästhetische Kultur unserer Gegenwart existiert (auch) als Reminiszenz.
Ettore Sottsass, Gründungsmitglied des Designkollektivs "Memphis" (1981), hat ein visuelles Vokabular in die Welt gesetzt, von dem Künstler und Designer bis heute geprägt werden. Dabei ist seine Formensprache selbst ein Konglomerat visueller Hinterlassenschaften. Bilder der französischen modernen Malerei prägen sein Verständnis von Farbe und Komposition. 1937 begegnet er dem Maler Luigi Spazzapan, Futurist, später ein wichtiger Vertreter der Abstrakten Malerei. Dieser wird ihm Freund und Lehrer. Sottsass Entwürfe aus dieser Zeit zeigen eine formale Nähe zu Kubismus und Fauvismus. Sottsass schafft Struktur durch Farbe. Nach dem zweiten Weltkrieg beschäftigt er sich mit Wassily Kandinsky, Hans Arp, Max Ernst und Alexander Calder. Das Designkollektiv Memphis ist als Experiment zur Gestaltung einer neuen Umwelt gedacht. Sottsass: "Wir beziehen unsere produktsprachlichen Anregungen nicht so sehr (…) von irgendeiner institutionalisierten Gewissheit, sondern aus Bereichen, wo alles wieder neu beginnt, unsicher ist, widersprüchlich, keine feste Meinung hat."
Ab der ersten Ausstellung in Mailand am 18. September 1981 dominiert Memphis das Feld des Designs und prägt den Stil der Postmoderne. Sottsass Suche nach unabhängiger Produktion bis hin zur Schöpfung zweckfreier Objekte rücken ihn in eine Geistesgemeinschaft mit den gezeigten Künstlern. Durch die Gegenüberstellung des Designs von Ettore Sottsass und Arbeiten zeitgenössischer Künstler versucht die Ausstellung das Prinzip der ästhetischen Weiterreichung exemplarisch aufzuzeigen.
Contemporary art and design are concerned with iconic elements–with specific ways of seeing and creating another time. The aesthetic culture of our time (also) exists as a reminiscence.
Ettore Sottsass, founding member of the design collective "Memphis" (1981), has put into the world a visual vocabulary which has been coining artists and designers to the present day. The design vocabulary of Ettore Sottsass' works is a conglomeration of visual legacies in itself. Impressionist paintings in the museums of Paris, which he had seen during a journey in 1936, coined his understanding of colour and composition. In 1937 he came into contact with painter Luigi Spazzapan, a futurist, then an important representative of abstract painting. He became his friend and teacher. In the interior designs of his student years the inner eruption, triggered by the art and the formal closeness to cubism and Fauvism, becomes obvious–he creates structure through colour. Using the materials of the artist (drawing ink, wax crayon, watercolour) he designed his interiors. After the Second World War, Sottsass occupied himself with Kandinsky, Hans Arp, Max Ernst or Alexander Calder. Memphis is thought of as an experiment for creating a new environment: "We do not draw our product design impulses (…) not from some institutionalised certainty. But rather from fields where everything starts anew, is uncertain, contradictory, and does not have a firm position."
Since their first exhibition in Milan on 18 September 1981, Memphis has been predominant in the field of design and has been coining the post-modern style. His search for independent production and his way of designing objects through to the creation of things free of purpose–like his ceramics–let Ettore Sottsass be spiritually akin with the artists that are shown here. Comparing Ettore Sottsass' iconic Memphis-Design with works of contemporary artists, the show tries to exemplarily point out the principle of aesthetic passing on.
Text: Juliet Kothe; Literature and Quote: Höger, Hans Leo: Ettore Sottsass (*1917) : Kontinuität und Methode im Schaffen eines italienischen Designers. Bonn, 1991